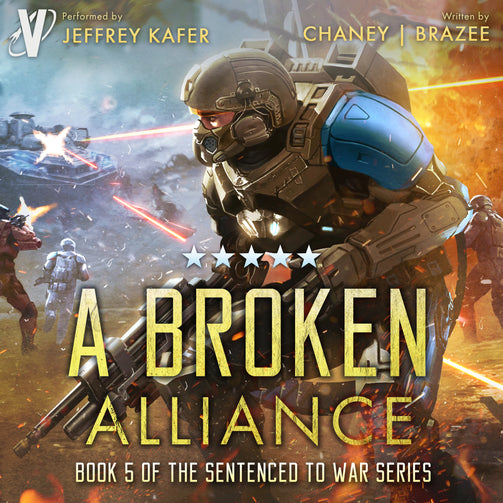 Sentenced to War 5 Audiobook: A Broken Alliance
Sentenced to War 5 Audiobook: A Broken Alliance
Regular price

Sale price

$14.99 USD
With the war against the Centaurs won, is a lasting peace finally at hand?
Staff Sergeant Reverent Pelletier has been attached to the Congress of Humanity's Home Guard, tasked with keeping the home system safe.
Old rivalries and new enemies threaten the alliance, despite the counsel general's mission to ensure humanity doesn't fall into their old ways of conflict and war.
It's a noble cause, but can humankind break the scourge that has affected them since they emerged from the trees? Has the war with the Centaurs that almost wiped humanity from existence taught them anything?
Experience says it is unlikely, but still, anything is possible. Get ready for the fifth entry in the international best-selling series, Sentenced to War, from USA Today best-selling authors J.N. Chaney and Jonathan Brazee. If you're a fan of intense military science fiction and realistic battle scenes, you'll love this ongoing scifi epic.
Duration: 9 hours
audiobook, science fiction, JN Chaney, SciFi, 
Couldn't load pickup availability