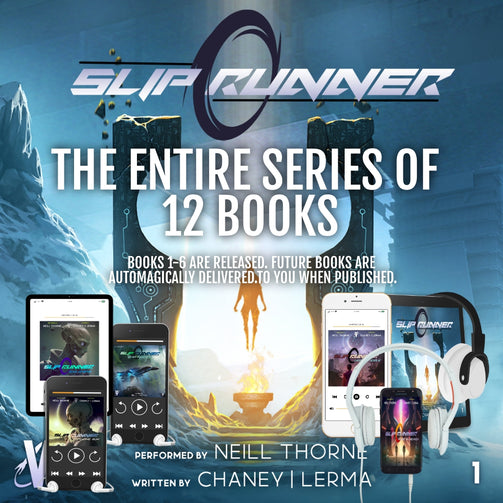 Slip Runner Audiobooks 1-12
Slip Runner Audiobooks 1-12
Regular price

$120.00 USD

Sale price

$99.00 USD
Secure the first twelve books and over 120 hours of audio for one amazing deal!
You get immediate access to the prequel and first six audiobooks then get each new release before any other audio platform.
The series has an average rating of 4.5 ✨stars and over 8,000+ reviews from your fellow readers!
Book 1: Slip Runner
Cole Riker is a Slip Runner.

A contractor tasked with finding alien salvage in exchange for credits. For an ex-smuggler like Cole, there's a catch: don't break the terms of parole. That means doing things by the book.

Find salvage, turn it in, get paid.

But everything changes when a retrieval mission lands him in a previously unknown sector. There, he finds the material he's been sent to recover, along with something more...

A brand new form of ancient alien life.

Such a thing could change the entire Alliance, the Galaxy, and everything in between, but most of all, it could change Cole's life for the better.

A shift in humanity's future is at hand, and Cole is holding the key. He just has to survive long enough to use it.

USA Today Bestselling Author J.N. Chaney and M.F. Lerma bring you a brand new series. If you're a fan of traditional heroes and old school scifi, this is the story for you.
Book 2: Dark Peace
Cole Riker is a free man.

Or close enough. He no longer has the weight of his past hanging over him, threatening to put him away for the rest of his days. All it took was finding an unknown alien lifeform and agreeing to escort it back to its homeworld.

Except his newfound luck doesn't want to last. Gray doesn't remember how to get home and all the evidence says his people abandoned him after an unknown threat came calling.

And that's only the beginning.

After Cole and his misfit crew are forcibly ejected from a collapsing slip tunnel, they find themselves in a different galaxy with no hope of getting back. That is, until they find something unexpected.

One of Earth's lost seed ships adrift in a sector that's never been mapped.

There, they discover something even more impossible: survivors.

Getting back on track should be as easy as convincing the 2,000 year old passengers to fire up the engines and set a course for the nearest star system, but there's something insidious about the long lost seed ship.

It's a little too perfect, and Cole will have to unearth more secrets before his chance to escape disappears completely.


Book 3: Defiant Exile
Cole and his crew are lost in space and stranded with no way home.

After escaping from the colony ship in a faraway system Cole has uncovered sinister evidence of August Walton's oppression: A castoff civilization living in the past and forced to comply with the Eternal leader's unjust edicts.

It doesn't take long for Cole to realize that the planet has its own secrets. Navigating lies and half-truths leads to a brewing rebellion led by the one person who might hold all the answers he seeks. But, as any good Renegade knows, nothing's ever easy.

Time is running short.

The enemy is always one step ahead, no one is who they appear to be, and Cole doesn't have the firepower or personnel to go up against the might of a seed ship. That isn't going to stop him from doing what he always does.

Survive and overcome.

Failure isn't an option. The stakes are higher than ever and freedom comes at a heavy cost. To get his crew back home before they're all too old to care, Cole must push himself to the limit and decide how much he's willing to sacrifice.

BOOK 4: BAD OMENS  10.2 HRS

With new systems come new problems.

Now that August Walton is dead and new information has come to light, Cole Riker and his team of misfits are finally back on the cosmic highway to another unknown location.

This time they might actually have a shot at completing the mission and getting back home in one piece. Victory isn't all it seems, however.

Finding a graveyard of ships belonging to Gray's people is just the first sign that things are about to go downhill. What Cole discovers inside is more bad news. Dead Anypsians, locked down systems—and the fun doesn't end there.

A new threat looms on the horizon.

With the Sol System several galaxies away, Cole knows it's not really his problem. Humanity is safe for now and he has a mission to complete. The last thing he needs is to get involved in another dispute that has nothing to do with him.

But sometimes doing nothing is worse than doing the wrong thing.

BOOK 5: DERACINE SUN  10.2 HRS
Gray has been taken captive and become the host of a Controller.

But not for long, not if Cole has anything to say about it. Determined to recover his hijacked crew member, he sets out to do what he does best: raise hell and kick ass.

With his co-captain still recovering from her injuries and the Star Treader in need of a commander in his absence, Cole breaches the occupied Anypsian warship alone. Getting Gray back won't be easy and neither will what comes after.

Cosmic scales are close to imbalance.

When bureaucracy rears its ugly head, only a Renegade and his steadfast crew stand between the enemy and a catastrophe that could echo across the universe.
BOOK 6: MADE IN HEAVEN  10.2 HRS
Where one mission ends, another begins...

Cole and his crew are no strangers to bad breaks. That's just life. With a war waging in Anypsian territory, it doesn't matter that their task is complete. Gray is family, and you don't turn your back on family. His memories remain elusive, and enemy forces continue to work behind the scenes in their quest for power. To stop them, Cole teams up with the shadowy organization known as Chaos.

The first order of business is to find a missing Anypsian with vital information and bring her in. There's just one problem—no one knows what side of the war she's on.

Once a Renegade, always a Renegade.

Tracking down someone who doesn't want to be caught on an unfamiliar planet is hard enough. Add a parasitic race of aliens and more secrets into the mix, and this new job is going to be a real doozy, but Cole was raised to finish what he started and doesn't mind getting his hands dirty in order to find the truth and put an end to this war.

With a loyal crew, determination, and maybe a dash of luck, Cole has a fighting chance to come out on top.

But this time, the stakes are higher than ever, and winning one battle doesn't equal victory.

Anypsia has secrets, some as old as life itself. Secrets that in the wrong hands will wreak havoc across this galaxy and change the future forever.

Warning: This book contains action, cussing, and general badassery. Read at your own risk.

Couldn't load pickup availability