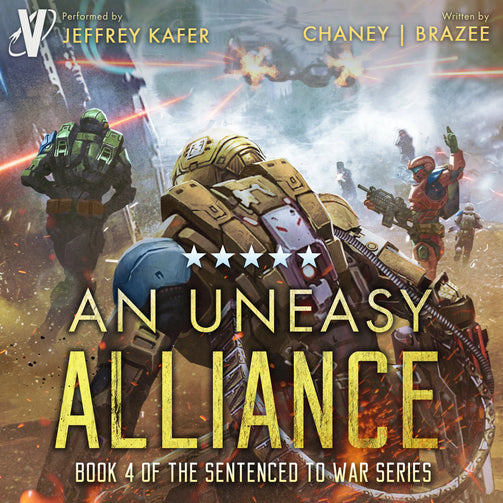 Sentenced to War 4 Audiobook: An Uneasy Alliance
Sentenced to War 4 Audiobook: An Uneasy Alliance
Regular price

Sale price

$14.99 USD
The war is over. Peace has at last descended over the humanity...or so it would appear.
The Centaurs may no longer pose a threat, but a new war is on the horizon, though it hides in the shadows of two empires.
Rumors of alien tech have set governments against each other, and with attention focused on defeating the Centaurs, criminal elements have gotten their tentacles firmly entrenched in the very fabric of civilization.
Staff Sergeant Rev Pelletier of the Perseus Union Marine Corps has now been assigned to the Home Guard, the elite unit made up of members from each military force in human space.
A new age is upon us. An age of exploration, treaties, and new enemies. But with tensions rising, can the Home Guard function as a viable, unified force to combat the growing lawlessness throughout the galaxy?
Rev, Tomoko, Bundy, Ting, and the rest return in this exciting fourth entry in the ongoing Sentenced to War series from USA Today best-selling authors J.N. Chaney and Jonathan Brazee. If you're a fan of gritty military sci-fi action and characters who refuse to quit, you'll love this series.
Couldn't load pickup availability