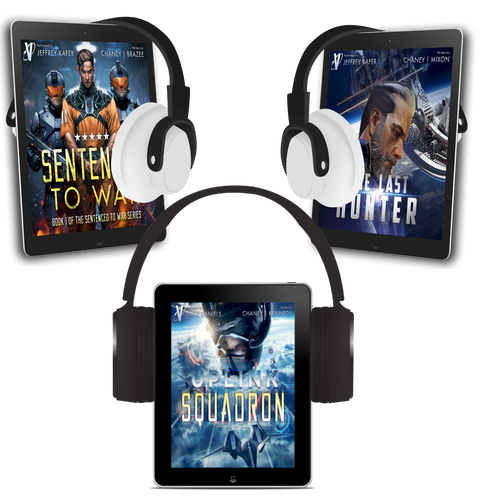 THREE BOOK STARTER BUNDLE: Sentenced to War-The Last Hunter-Uplink Squadron
THREE BOOK STARTER BUNDLE: Sentenced to War-The Last Hunter-Uplink Squadron
Regular price

$62.50 USD

Sale price

$33.00 USD
Get the first audiobooks in these three best selling series. Three full length novels with over 30 hours of audio in total. We apologize in advance for getting you hooked to three amazing series.
The Last Hunter
Those that fail to learn from history are doomed to repeat it.
Two centuries after the Confederation staved off an invasion by the robotic Locusts, Captain Jack Romanoff faces mandatory retirement from an ever-shrinking navy. Actions speak louder than words. The Confederation doesn't think the Locusts are coming back.
But what if the politicians are wrong?
Snared in a scheme he doesn't fully understand or trust, Jack gets his promotion, but it comes with a catch. With a crew of rejects, he must restore the most powerful warship humanity has ever built, after centuries of neglect and decay, before time runs out.
If he fails, humanity might not need to worry about history repeating itself ever again.
Sentenced to War
2021 Dragon Award Nominee for Best Military Science Fiction

Sit in prison or join the military. The choice is yours.

Convicted of a minor traffic violation, Rev Pelletier is conscripted into the Perseus Union Marine Corps... for up to a thirty-year term of service. Anxious to get back to his civilian life and job, he opts for a shorter term as a Marine Raider, taking the fight to the enemy.

But with extremely high mortality rates, can he and his friends survive until their term of service is over?

Download Sentenced to War now to follow Rev through perilous battles as he fights to hold back the alien invasion. If you're a fan of Old Man's War, Starship Troopers, or Armor, you'll love this military scifi thrill ride.
Uplink Squadron
The ultimate pilot has arrived. An unprecedented connection between man and machine.
Five years ago, aliens destroyed a carrier and its airwing at Jupiter without warning.
Since then, the Earth's nations have learned to work together, and they want to know more about the aliens who appeared, attacked, and vanished without a trace.
The Americans have provided a new carrier and a slew of space fighters.
Chinese engine and gravity technology has made going after the invaders possible.
And the Russians have developed a new control system for the American fighters that will give the craft never-before-seen capabilities.
Most importantly, this blend of technology has allowed for pilots to connect directly to their ships, amplifying their reflexes and giving them the ultimate edge in combat.Mankind's next war is upon us, and Uplink Squadron is the tip of the spear.
It's time to plug in and save the world.
Couldn't load pickup availability